It was the morning of November 3, 2016, the alarm went off at 5am sharp. I woke up, grabbed my bags, and tossed them in the car. It was finally time to head out on our Ecuador Volcanoes Expedition, a trip in the making for the last 8 months. A bit of nervousness set in as I went through customs and boarded the plane. A lot of planning had gone into this trip and I wanted it to go smoothly, fortunately Ecuador mostly complied with my desires.
I arrived atour hostel, El Hostelito at around 10pm. The nice folks there showed me to my pod and even escorted me to the local shop to pic up a few brews. We sat and chatted about tourism in Ecuador and discussed some various marketing techniques for our hosts upcoming business plan. After some chatting, the long day took hold and I retired to my pod for the evening.
I awoke the next morning and met with most of the team, and after a well-balanced breakfast we headed over to "The center of the world". It's a monument for the Equatorial line that runs through Ecuador, despite the fact the real Equator is 5km away. We wondered around for a bit in the hot Ecuadorian sun and got all the happy snappies ones heart desires.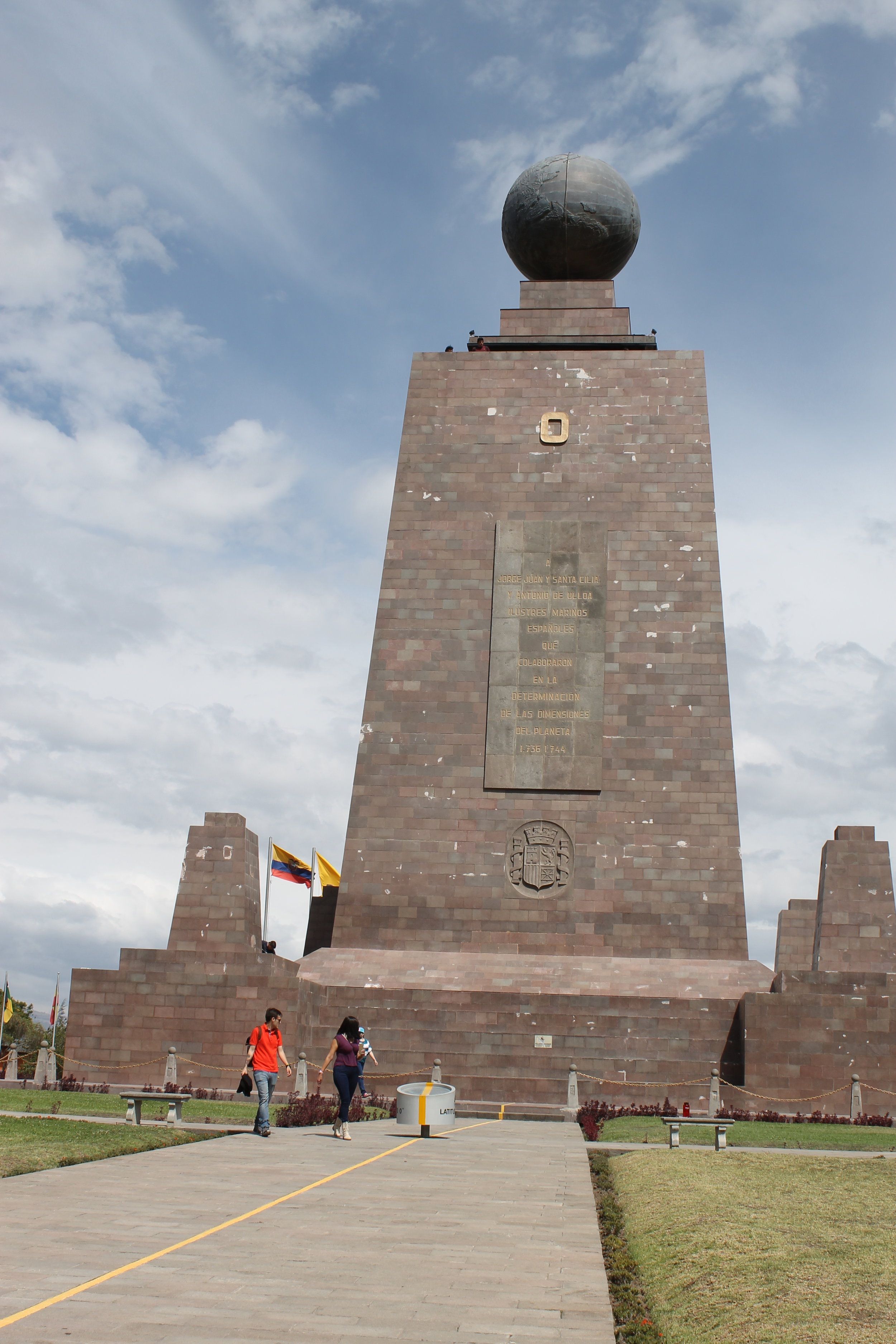 Later that evening we found what was to become our go-to restaurant in Ecuador, The Flying Scotsman. How could a empty Scottish restaurant in Quito be anything but authentic? Turns out this place is rad. We had some great food and drinks and a few laughs with our token Scottish server. It was a great start to the trip.
That night I eagerly paced back and forth on the roof waiting for the last of our climbers, and at about 2am, she showed up. A minor communication error with the cabbie took her a bit off track. I gave her a quick tour of the hostel and we settled in for the night.
The next morning was Saturday, and it was the big day for the Otavalo market, South America's largest market. We boarded what seemed to be an endless amount of buses to get there but when we arrived, it was all worth it. The shops were amazing with all the colors of the rainbow everywhere you looked. We perused the shops for a bit before heading over to a great little café in the center. The even let me put #getradwithnrmg on the wall. After a great lunch, we boarded the bus back to Quito in preparation for our first climb the next day, Rucu Pichincha.
It was finally time to start climbing. We double checked our bags and hopped into 2 cabs over to the Telefirico, a cable tram that provides a shortcut to the upper mountain. The altitude slowly set in as we slowly worked our way up the mountain. After a 5ish hour climb, we were standing on top, tired but happy. The mountain gave us some brief views as the clouds rolled in and out, fortunately we only saw 3 rain drops the whole time.
After the long climb on Pichincha, we had a rest day. We took advantage and headed over to Quito's Old City. It's a mix of historic buildings and churches and a definite must do when in Quito. We got our spot at the Presidential palace tour and headed down a dark alley following some Ecuadorian man selling hats. Turns out he was a nice guy and a tough negotiator but we managed to get a few deals out of him. We made sure to check out some of the amazing churches before our tour of the palace, just as the rain started. It's amazing how many vendors sell umbrellas on a rainy day.
The day had finally come, Cayambe day. Our Ecuadorian partners picked us up at 10am sharp at our hostel. We headed over to the town of Cayambe, a decent sized city with some great art stuff. We had lunch there and then stocked up on supplies at the local market. As we headed up the road leading to Cayambe, I heard someone mumble "These roads are bad" our Ecuadorian guide and I looked at each other and laughed, " They think these are the bad roads". The road to Cayambe is a long and hard one, and we only got stuck once. Our guide Estalin however, wasn't one to give up easily. He continued to floor his Isuzu Rodeo until we made it through the sand "NEVER SURRENDER!" he yelled as the rig barely made it through.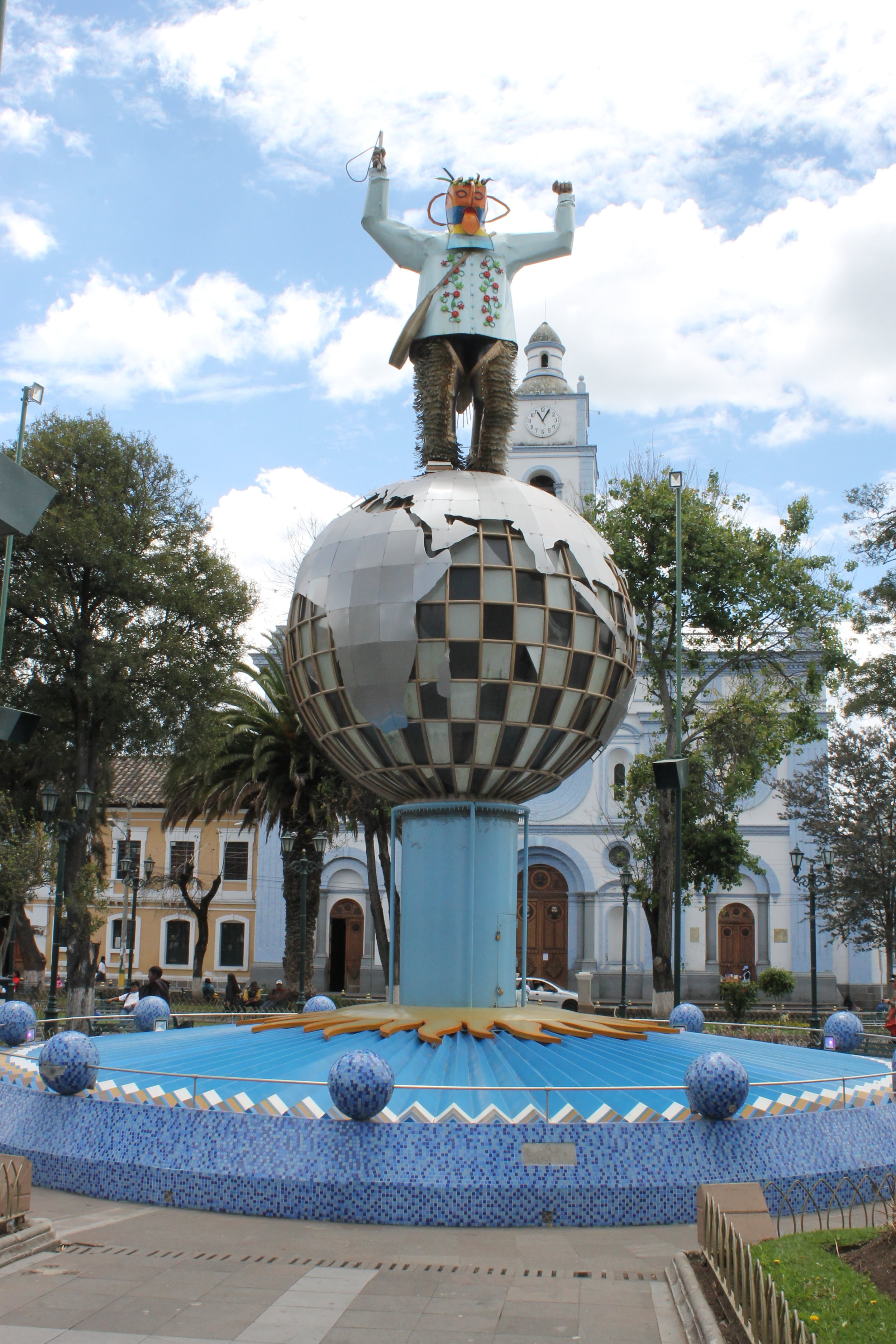 After arriving at the Refuge, I noticed one of my US guide friends was standing outside. We shook hands and chatted about guiding. After some time hanging out at the refuge, it was time for dinner. They serve some of the hands down, best mountain food I have ever had. After dinner the guides and I decided who would be on what rope line. We got into our sleeping bags in preparation for the 11am start time.
The alarm went off at 11am sharp, it was go time. I chatted with the guides and headed outside to see we were in the clouds and it was raining. We decided to give it another hour to see if the weather would clear, it didn't. One more hour later and the clouds broke, it was time.
Everyone quickly gathered there things and booted up, we headed out the door and onto the mountain. We slowly worked our way up the rocky outcropping as the altitude set in. We pushed on for a bit until we hit the glacier were we roped up. We carried on up the mountain slowly, the altitude taking it's toll. We managed to get to around 17,500ft. before the mountain stopped us dead in our tracks. We paused to take in the views and get some water before we headed back down the mountain.
The long drive back to Quito was a hard one, with nearly zero gas left in our tanks we slipped in and out of consciousness. A quick stop for some of what appears to be Ecuador's favorite drink Coca-Cola, and are batteries were slightly recharged. We headed out for dinner after the long ride, and it was a good one. One of the climbers and I decided it was time for some libations in the city, it was a fun time, maybe too much fun.
Finally it was spa time. We hopped in our cabs and headed over to Termas de Papallacta a world class spa surrounded by volcanoes. We checked into our private bungalow and quickly jumped into the thermal pools. After a good soak, we headed over for some pampering in the form of massages, facials, and chocolate wraps. We had a good dinner and retired to our bungalow for the evening. After breakfast we jumped back in the thermal pools before checking out and heading back to Quito.
Our trip was finally coming to a close, it was our last day in Quito. We all packed our things and set up our transportation to the airports. After the packing, we went out for a celebratory dinner at the Flying Scotsman. We all reflected on our journey and the new experiences we had gained in this amazing country. After a few more drinks in the city, we headed back to our pods for one last night.
The morning was a hard one, with little sleep and too much fun the days before. I jumped in the cab and headed back to the airport. I worked my way through customs and check in and quickly put my head down on my tray table. It was a hard place to leave, but I know I will be back soon.
In summary, everyone should go to Ecuador. It's an amazing place and a very affordable one to boot. It is hard to say why Ecuador isn't the tourist hub it should be, to me it is one of the best places I have been. The people are nice, the food is cheap, and the views are amazing. Be sure to add Ecuador to your bucket list and check in for our 2017 dates as they come up. I hope to see you all down in Ecuador soon.